Hi! My name is Tiffany and I'm a dietetic intern (in the coordinated program at Stephen F. Austin State University) aspiring to be a registered dietitian. I have had the opportunity to have a rotation at My Signature Nutrition with Sara Upson, and it's been an awesome experience.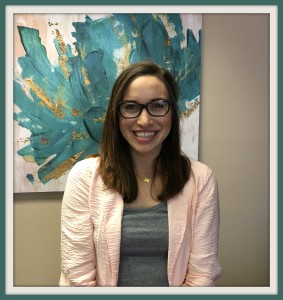 When coming into this rotation I really didn't know what to expect, all my other rotations had been clinical, food service management, sports nutrition, HeadStart, etc. all which are completely different than this one. In this rotation I was able to sit in on Sara's counseling sessions and observe how she reacted, counseled, and helped her clients with their eating disorders and general nutrition help. One thing I learned that I didn't know before is that eating disorders (ED) all have a root cause, something that stemmed the individual into having that certain behavior, whether it was something dealing with their family, a traumatic event that happen, childhood years, or something that personally affected them emotionally. It has little to do with the food, which most people think of when imaging ED, and everything to do with people's emotions towards life events. When people think of ED at a surface face level they just think people have an issue with food, that their mind is messed up, or that they are not confident, but it's way deeper than that. I learned from Sara that by getting to the root cause of ED and the behaviors, you need to ask specific questions and get the client to discover the answer on their own. By working on nutrition rehabilitation, the surface level issues, it can help clients discover core beliefs that they can then explore with their therapist. Seeing how Sara interacted with her clients, understanding them every step of the way, and motivating them was very inspiring.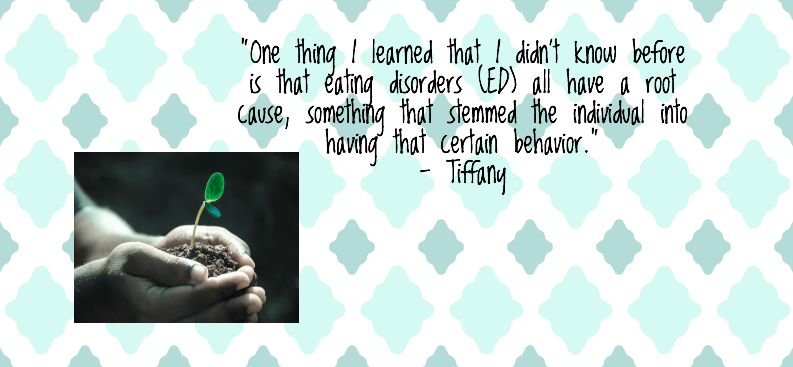 After seeing this work done with eating disorders I would like future and current dietitians to be aware of it. Eating disorders are more common than we think and can be affecting both men and women. A dietitian would never know that a client has an eating disorder without being aware of it, and they may be doing more harm than good if they are giving these clients the wrong information on nutrition and restricting their eating. Another thing to be aware of is the society that we live in, it's so messed up in the thought of body image. The society thinks that people should look a certain way, when instead they should preaching everyone to love the body that God has blessed them with. With the society being so shameful, it has caused multiple people to have an eating disorder, take steroids to get bigger, get plastic surgery, and have body distortion because it's not exactly how society says it should be. Future dietitians should want to help their clients live a healthy lifestyle, while being aware of ED and help people love themselves in their own skin.
Guest Post by Tiffany Kroll, 2017 Stephen F. Austin Dietetic Intern