Does your doctor/ dietitian/ therapist really specialize in eating disorders?
March 27th, 2015 by Sara Upson
Eating disorders are the deadliest mental illness and require specialized care.  That means just because someone is a doctor (including psychiatrists), counselor, psychologist, dietitian, or any other health provider- it doesn't mean they know about eating disorders.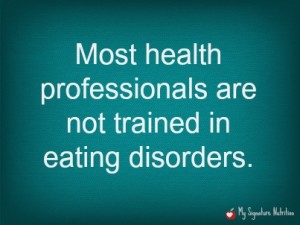 The sad (and dangerous) reality is that most health professionals are not trained in eating disorders.  Health professionals may receive minimal training but typically it is no more than reviewing the definition of an eating disorder and the diagnostic criteria.  In fact, for many health care providers eating disorder training is an elective.  Because of this lack of education eating disorders are frequently misdiagnosed or overlooked while the client is stigmatized and blamed for their "problem."1   Some clinicians will minimize the situation saying there is nothing wrong and will tell the client to go home and eat a burger.  I have seen other professionals use behaviors around food to build rapport- saying that what you are doing is normal when in fact they are signs and symptoms of a serious medical condition.  All of these situations are extremely dangerous and health care providers should be aware of eating disorder signs and symptoms so that they can refer to specialists to help their clients/patients get the care they need.
Even more alarming is when health care professionals say that they specialize in eating disorders when they have no additional training.  You would like to believe that people don't do that, however I see it all to often.  How can you make sure you are working with someone who actually specializes in eating disorders?
Here's what to look for:
Training/education
Ask:  What education and training do you have in eating disorders?
A trained provider's response should include extensive training beyond what they have received in school and should include professional supervision specifically related to eating disorders.  Many providers will also discuss ongoing continuing education to help them stay up to date with the current research of eating disorders. Side note: if the first thing a provider says is about his or her own personal experience- walk away, quickly!  And although for most of my eating disorder clients I do not condone running, I might in that situation.  Run Away- find someone who does specialize in eating disorders!  You can read about why Recovery does not equal eating disorder specialist here.
Ask:  Are you an IAEDP certified eating disorder specialist?
Hint: if they're not sure what IAEDP is, what a certified eating disorder specialist is or are unaware that this certification exists, it's probably not a good sign.  The International Association of Eating Disorder Professionals (IAEDP) is working to help provide standardized training in eating disorders so that individuals seeking help can know they are working with a trained specialist.  The result is the CEDS (Certified eating disorder specialist) or CEDRD (Certified eating disorder registered dietitian).  But wait, you may think- Sara, you're not a CEDRD.  Not Yet.  I am working on this and hope to have the certification complete by the end of 2015.  Stay posted for updates!
Experience
Ask:  How long have you been working with eating disorders?
Many eating disorder specialists have worked with eating disorders for years and will have lots of experience.  Those newer to the field may have less experience but will demonstrate a willingness to learn and will be involved with professional supervision.  Likewise, many experienced providers engage in case consultations to ensure that they are providing the best care.
Ask:  What percent of your caseload are eating disorder clients?  Follow up:  About how many clients is that per week?
Eating disorders are a specialty area and your providers' primary area should be eating disorders.  It's not a good sign if your provider only has 1-2 eating disorder clients in their entire caseload.
Ask:  Do your clients get better?
An eating disorder specialist will let you know that most of their clients do get better and go on to live full, happy, healthy lives.
Follow up: Do you believe in full recovery?
Most eating disorder specialists believe that full recovery is possible.  This means a life completely free of eating disorder thoughts or behaviors.  Some clinicians believe that like other addictions once you have had an eating disorder you will always have an eating disorder.  From my experience, the vast majority of eating disorder specialists believe that full recovery is possible for most clients while those clinicians who don't specialize in eating disorders tend to believe that someone with an eating disorder will have to be vigilant the rest of their life.  The answer to this question could tell you a lot.
Involved
Ask: Are you involved with any professional organizations?
Most eating disorder specialists will be involved with one or more of the following professional organizations: The Academy for Eating Disorders, The International Association of Eating Disorder Professionals, Binge Eating Disorder Association.  Many will also be involved with The National Eating Disorders Association.
Ask: Do you participate in ongoing continuing education related to eating disorders?
While experience is a must related to eating disorders, so is ongoing continuing education.    Eating disorder professionals should be involved in organizations, attend conferences, participate in webinars and seminars to stay up to date on the current research related to eating disorders.  So much has changed about eating disorders from what we originally knew in the 1980s.  We are learning more about eating disorders and if clinician does not stay up to date, they could be providing out of date, or even harmful information.  I do see this locally with professionals who have been in the field for quite some time who are not involved with professional eating disorder organizations.  Subsequently, I also see and hear statements and comments made that end up doing more harm than good.  Both experience and ongoing education are a must.
Ask:  Do you work with a treatment team?
We know that the best practice approach to treatment of an eating disorder is a multidisciplinary treatment team.  An eating disorder professional will want to collaborate with a treatment team including a medical doctor, a psychiatrist, a therapist and a dietitian.  When a provider says that a team approach isn't needed, doesn't refer, or says that they can treat it all themselves, it is a huge warning sign.  Likewise, if you choose to work with a treatment team (following the gold standard of eating disorder treatment) and your clinician is upset or says they don't recommend a treatment team- then it may be time to find a new provider who actually specializes in eating disorders.  Anyone who has an eating disorder should be working with a treatment team.  Any eating disorder professional should be referring and working to build a treatment team for you so that you can get the best care.
For more information on what to look for or questions to ask visit the National Eating Disorders Association website here:
http://www.nationaleatingdisorders.org/seeking-and-securing-treatment
—
Thompson-Brenner, H., Satir, D., Franko, D., Herzog, D., Clinicians Reactions to Patients With Eating Disorders: A Review of the Literature.  Psychiatric Services.  63:73-78, 2012.