Recently the Academy of Nutrition and Dietetics (the professional body for Registered Dietitians) announced that dietitians now have the option to use RD or RDN to represent the dietitian credential.  The RDN credential stands for Registered Dietitian Nutritionist and further emphasizes the nutrition aspect of a dietitian's training and expertise.
The RDN credential is optional so you might see some dietitians using RD and some using RDN.  Either way, keep in mind that all dietitians are nutritionists, but not all nutritionists are dietitians.  When you are looking for nutrition information (whether in Tyler, Texas or beyond) be sure to look for the RD or RDN credential to know that you are working with a nutrition expert who has received extensive training in health and nutrition.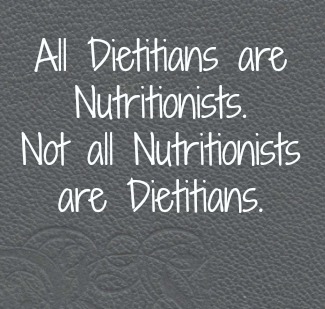 The RD Nutritionist Difference
A Registered Dietitian (RD) or Registered Dietitian Nutritionist (RDN) is a food and nutrition expert.  Many people wonder if a dietitian is the same thing as a nutritionist.  You could say that all dietitians are nutritionists, however not all nutritionists are dietitians.  A dietitian separates facts from fads and translates nutrition science and research into everyday information that you can use.  To be a dietitian there are specific requirements you must fulfill:
Graduate from an accredited college or university with a minimum of a bachelor's degree with course work approved by the Academy of Nutrition and Dietetics' Commission on Accreditation for Dietetics Education (Yes, it includes lots of nutrition, but also biochemistry, physiology, and psychology.)
Complete an accredited, supervised internship.
Pass a nationally accredited exam for registration administered by the Commission on Dietetic Registration.
Maintain active registration and licensing by completing continuing education.
Additionally, in the state of Texas you must also be licensed.
Beyond that, many dietitians have advanced degrees in a variety of different areas.
Registered Dietitian is a legal credential with a nationally recognized exam and standards that must be met to take the exam and maintain registration. There are no specific requirements or recognized guidelines for credentials as a nutritionist.