Do this one thing to lessen the impact of diet culture comments. For The holidays & beyond.
November 25th, 2019 by Sara Upson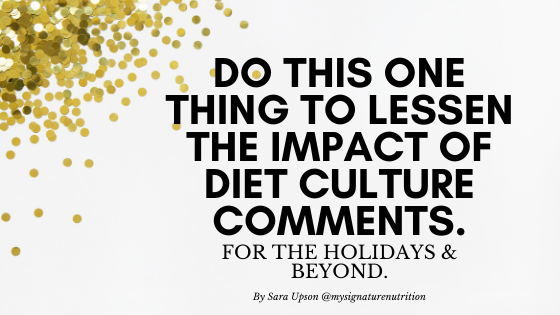 Several years ago while leading an intuitive eating group that ran through the holidays we had a group competition over Thanksgiving…
Most people in the group were anxious about the holidays because they had given up dieting, were making peace with food, had some concerns about the holiday food, but most concerns were about family.  
In fact their biggest concerns were the things that their family members would say or do that would be triggering or upsetting to them about food, body, eating, weight, size, dieting, etc.
Of course we discussed ways to navigate these conversations, how to set boundaries, how to change the conversation, how to respond, how to reach out for support (as seen in this blog about the holidays).  BUT the fear still remained.
You can't make people change or stop. It makes sense that the fear is still there- you can have all these conversations, tell your family that you're not dieting and not doing that any more- or that you're recovering from an eating disorder and that comments are harmful- but you can't make people change or stop.
It's maddening and frustrating and hurtful!  To say the least. Especially when you're specifically setting a boundary and your family just can't do it. . .
So in our intuitive eating group we created a competition.  The competition helped to shift the narrative around the things that family members said or did.  Did it solve the problem? No.  Did it make their comments less triggering or hurtful?  A little bit. 
The competition was to see who could come back with the most annoying diet culture comment.  The competition was pretty fierce and I don't remember what it was that won- but what I do remember is how much it helped the group members to feel less stressed and anxious about the holidays.
With the competition, the things their family members did and said became less annoying, less triggering, because all of a sudden they were collecting information- listening for comments with the intent to win.  They were curious.
Certainly this doesn't make things less hurtful but it does create a shift.
The shift comes from waiting with dread for the comments to listening with curiosity for the comments. From feeling apprehensive about what they're going to do or say to waiting for them to win the competition for you.
It's a shift that creates curiosity and takes power away from the comments. 
So for fun and for support- in a similar manner I created Holiday Diet Culture BINGO! It's just for fun and for you to use with your holiday events with friends and family- or really any time of the year.
Click Here to Get Your Bingo Card!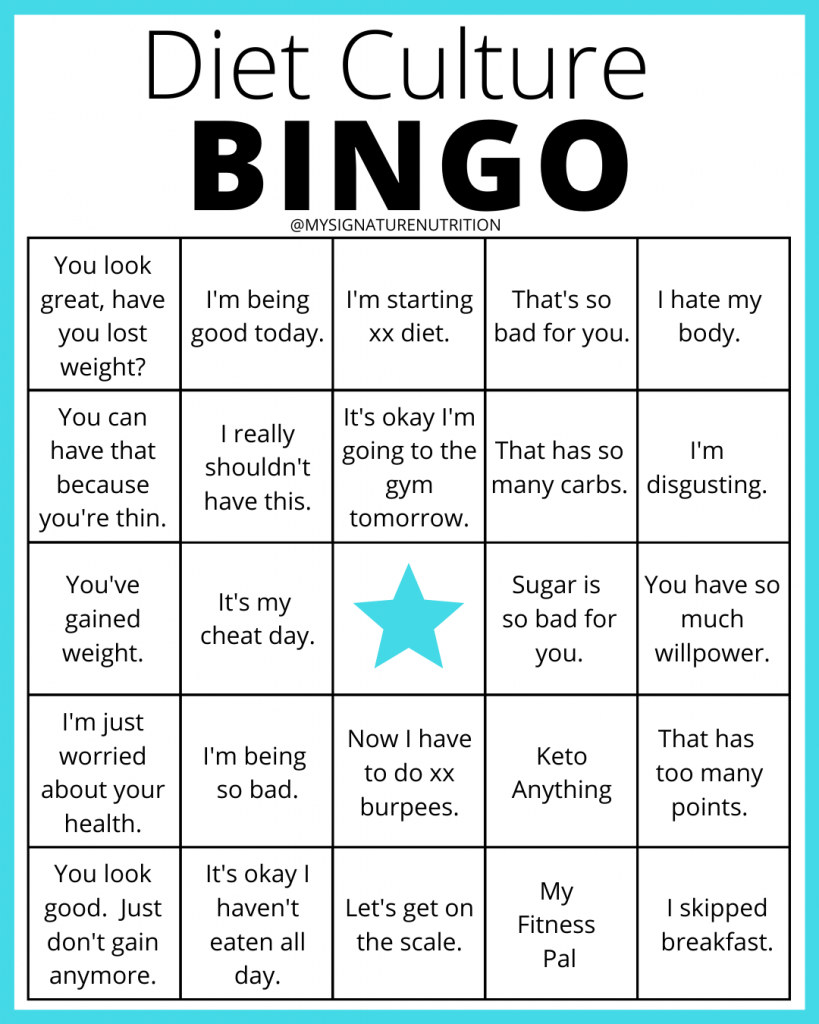 The hope is that instead of the comments being so triggering it becomes predictable– that you know they're going to say something and then you're listening with curiosity, with intent to BINGO!
I wish it was possible to make it where people wouldn't say anything and to where comments didn't have any impact. Sadly, it's just not so. My hope is that making it a game lessens the impact and that it makes your holiday (or life) a little bit more enjoyable.  
So download your bingo card and come play along on instagram!  
Click Here to Get Your Bingo Card!