Cooking more during quarantine? Here are some of my favorites.
May 18th, 2020 by Sara Upson
A friend recently asked me if I had a list of websites that I liked to get recipes from and I had no response. Literally my mind was blank and I couldn't think of anything off the top of my head. But, as I've been cooking a lot more the past couple weeks with quarantine and restaurants closed I've realized that I do actually have a list of websites I like to get recipes from and am sharing it here.
Before I get to that list though I want to share some really important information about cooking: 1) it's okay to follow the recipe just as it is with regular butter, sugar, and flour 2) it's okay if you want to modify the recipe 3) it becomes problematic if you can't cook or eat without modifying the recipe 4) and friendly reminder- it's okay to enjoy your food.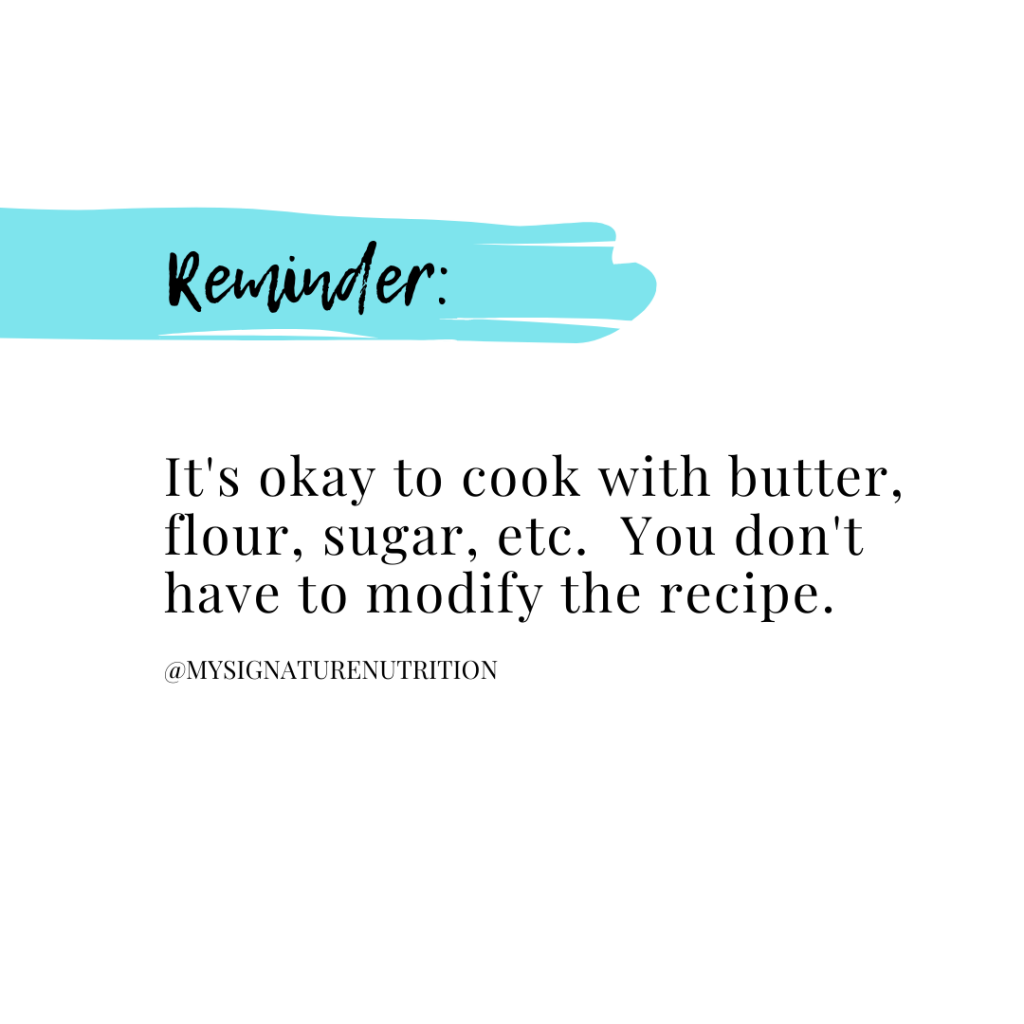 There's such a focus in our culture to eat "healthy."  And to be honest, it's not really healthy- it's more orthorexic in nature- meaning that it's a fixation on healthy eating, a disease disguised as a virtue.  It quickly becomes problematic when the only way to feel comfortable eating a food is if it's healthy.  Food is more than health and fuel.  
Because of this fixation on healthy eating I find it really difficult to find a recipe that isn't labeled as "healthy" or include some "diet culture-y" type ingredients (aka the most popular latest and greatest oil or what not). When I'm looking for a recipe I'm looking for something that sounds good, that includes flavors that my family prefers, and is quick and easy to make. I don't choose food because it's healthy. I choose food based on what sounds good. I bet you do too and that's okay because when you eat intuitively you'll naturally choose a balance of foods that meet your health needs.
With that in mind, it's okay to choose recipes based on what sounds good. It's okay to use regular butter, sugar, flour, salt, etc in your cooking. You don't have to modify or "healthify" your food. You can cook food that you enjoy!
And, it's also okay if you want to change the recipe to include different ingredients. This is where it gets complicated though and involves a lot of nuance… It's not problematic to use a substituted ingredient- it can become problematic though if you can't cook the recipe without substituting ingredients, if you won't eat the food without substituting ingredients, you become anxious with using "real" ingredients, you feel like you need to compensate if you do use "Real" ingredients, it feels safer to substitute ingredients, etc. This is where substituting ingredients can be a disordered behavior. The intention behind why you substitute an ingredient and how it impacts you mentally can tell you so much.
And, because I know some people will read that last paragraph as permission to substitute ingredients- I'm not saying that. If you're in the recovery process from an eating disorder, struggle with disordered eating or are working on healing your relationship with food I don't recommend substituting ingredients because it will likely play right into the eating disorder. Please examine the intent behind the desire to substitute and what you perceive you'll get out of it first.
With that being said, here is a list of websites + some of my favorite recipes that I've enjoyed lately. I wish I could say they were diet culture free, but you'll see a lot of them still reinforce "healthy." It's so hard to get away from that and I think it speaks volumes to how orthorexic (disordered) our culture is. My suggestion for these recipes: don't read the blog, just skip to the recipe. In no particular order, here they are:
Damn Delicious– Lots of one pot meals and sheet pan dinners to choose from which I really appreciate. The most recent recipe I've cooked is the sheet pan lemon rosemary chicken.
Chelseas Messy Apron– I enjoy her quick and easy sheet pans. My favorite is the harvest sausage and veggies sheet pan recipe.
Epicurious. Recently I've found a lot of recipes from this site I enjoy, but my favorite by far has been this pasta primavera. Because my kids aren't into shrimp I made it with chicken (cooked first, removed from pot, then added back in). I should also admit that I almost never follow a recipe and used an entire box of pasta plus the entire bag for all the veggies. I had to use a bigger pot and more water but it came out delicious!
Dinner At The Zoo. This site has a lot of quick and easy recipes here that are also kid friendly- which is perfect for busy families. My most recent favorite is the chicken fried rice. Sooo yummy.
Inside Bru Crew Life– mostly the recipes I cook from this website are for old bananas. I almost always have leftover bananas (I really like them greenish and when they start getting a little mushy I don't enjoy them) and like to use them for baking. There are so many creative banana (and other delicious) recipes here.
Sallys Baking Addiction: yummy is all I really need to say here. The most recent recipes I've cooked are the hummingbird cake and rice krisipies. I know you may think you don't need a recipe for rice krisipies, but these are so much better than what's on the box or bag.
Two Peas and Their Pod– I love a good sausage and pasta recipe and they have a really nice one here that's fast and easy.
All Recipes– I love all recipes because it's so easy to find recipes based on one ingredient. It really helps me use produce or items that need to be used before they expire and provides lots of options.
I also want to add- don't forget the sides. While a lot of these recipes are one pot or sheet pans, you probably need something to go with it. Some easy adds are a grain/bread (or both), fruit, salad/veggies and/or dessert. Enjoy!
I'm also curious to know what you've been cooking lately or if you have any recipe sites you're enjoying. If so, share them with me!